Initially thought to be a dry orientation event filled with complex academic jargon, the Career Orientation Day for Information Technology (IT) turned out to be incredibly engaging and inspiring, thanks to the creative and humorous presentation style of the speakers.
The guest lineup for the Career Orientation Day for New IT Students included: Dr. Tran Son Hai, Head of the IT department at NIIE; Mr. Dang Thanh Tung, Deputy Director of Bao Kim Import-Export Company, IT Solutions Advisor; Mr. Luong Tran Ngoc Khiet, M.Sc, NIIE lecturer, program coordinator.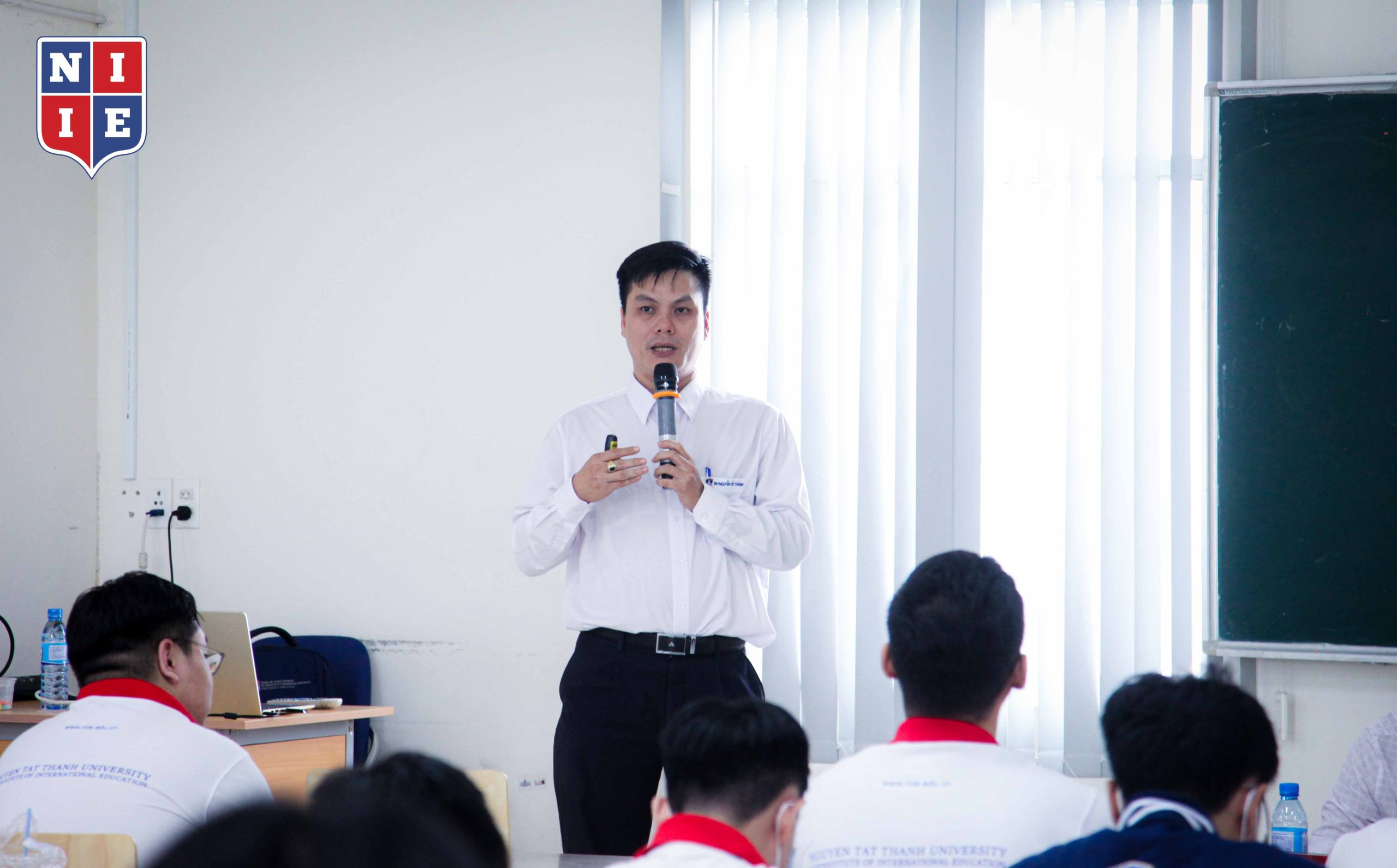 To start the session, Dr. Tran Son Hai provided the students with the most fundamental information regarding educational philosophy, training objectives, training duration, and post-graduation standards for engineers and their competencies. Being a dynamic field that continuously updates technology, he advised students to not only diligently absorb knowledge in the classroom but also possess an active learning consciousness to enhance their expertise. Besides, English plays a crucial role for IT students because most authoritative resources are updated earliest and most quickly in this language.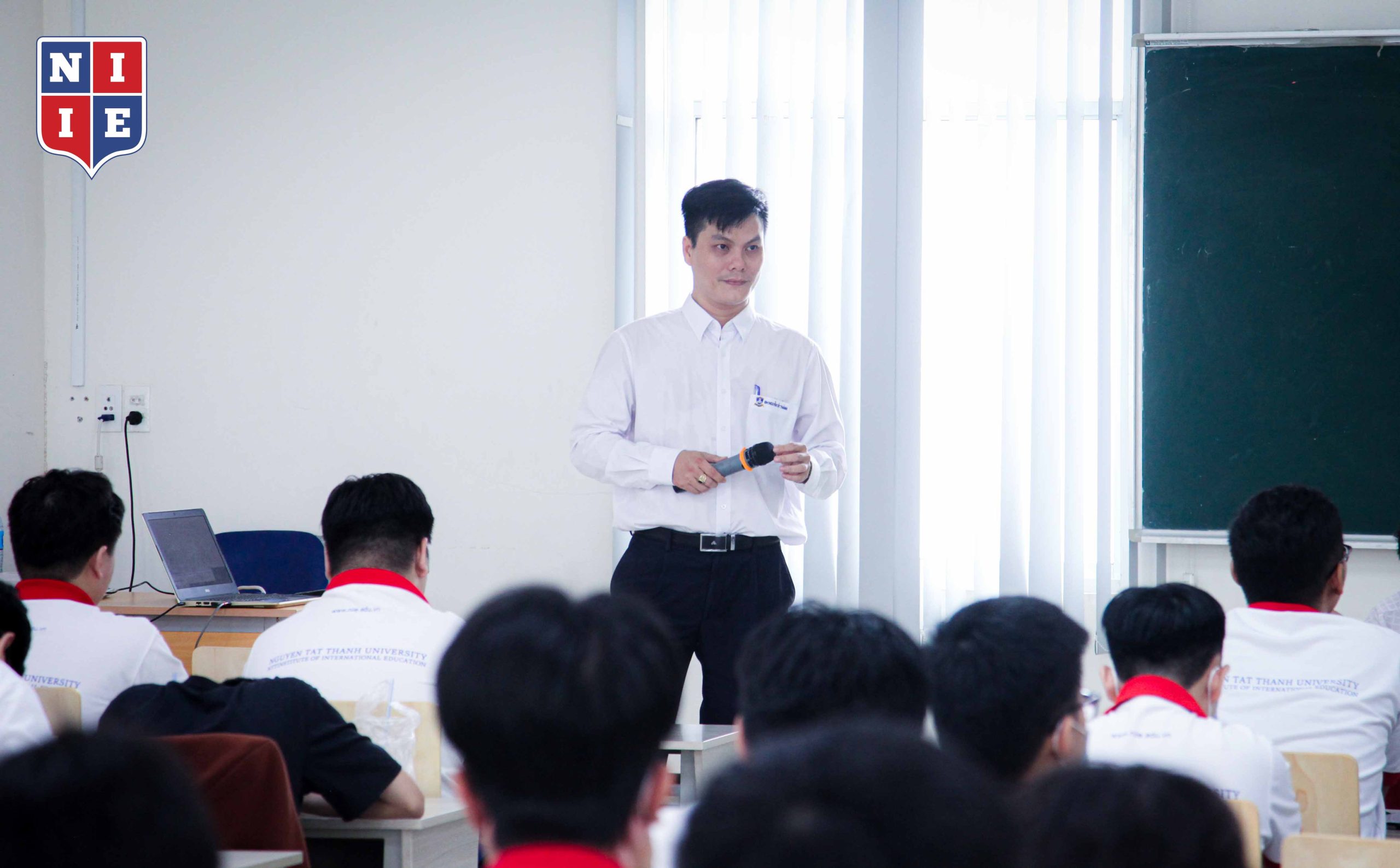 As a highlight of the Orientation, Dr. Tran Son Hai used AI Voice (Artificial Intelligence voice) to deliver encouraging and beautiful messages to the new students, which surprised and excited everyone, transforming the atmosphere. This action aimed to communicate a message to the newcomers that in today's world, technology is vastly developed. As International Standard IT graduates, they need to keep up with the trend, master technology, and learn how to use it effectively in their work.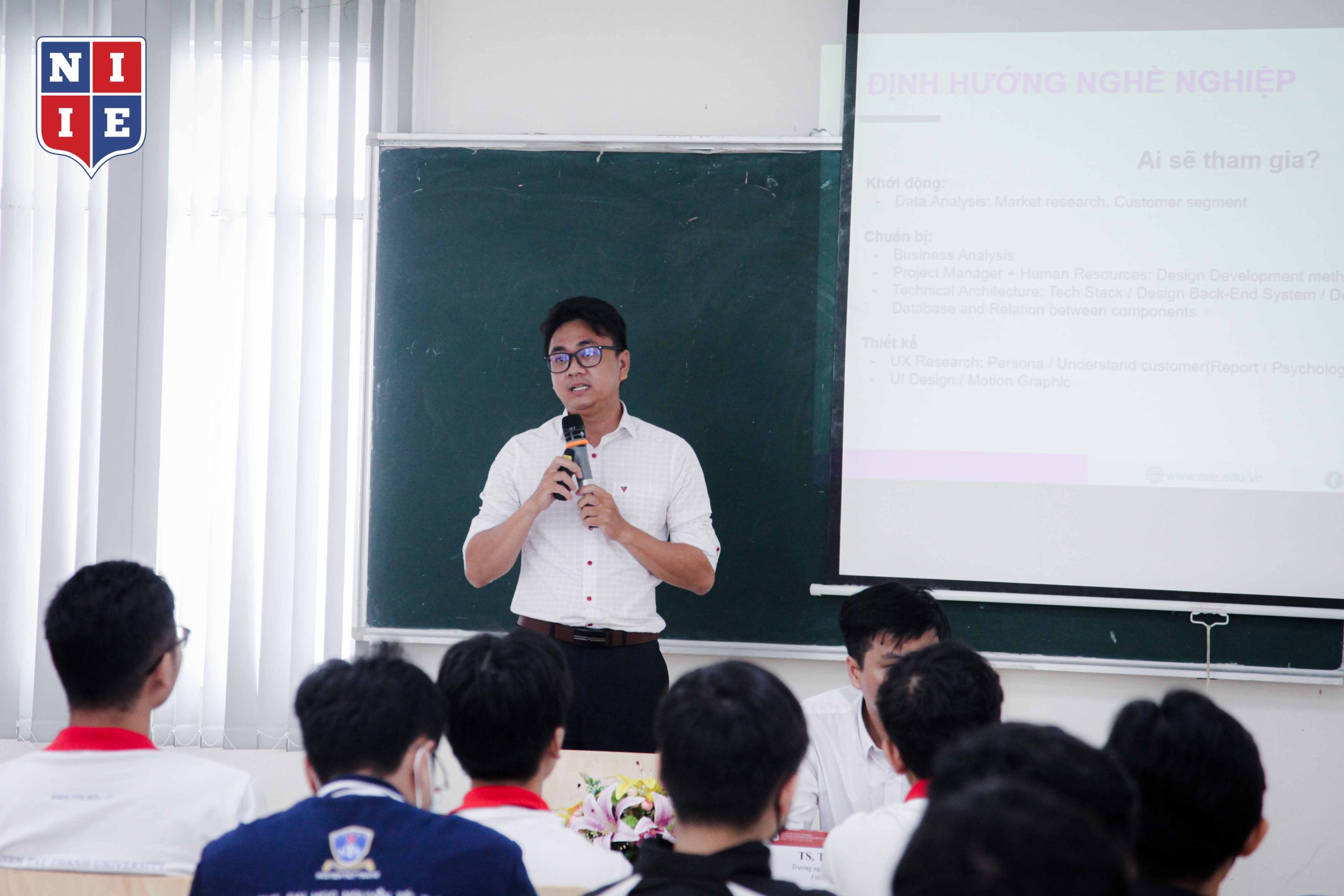 To offer students a more accurate perspective on career directions, Mr. Dang Thanh Tung provided a vivid example—the developmental process of the technology application, Grab. At the initial stage, the project will require Data Analysis: Market Research, Customer Segment… and IT students could contribute in roles like Business Analysis, Project Manager/Human Resources, Technical Architecture, Database, UX Research, UI Design/Motion Graphic. During the development phase, the project will require Back-End & Front-End, Full Stack, Testers, and finally, during the publication stage, System Architecture positions will also be needed. Hence, it's evident that IT industry careers are incredibly diverse and extensive. Furthermore, leveraging his experience as Deputy Director and Technology Solution Advisor for enterprises, guest speaker Thanh Tùng also openly shared the essential qualities businesses seek in fresh graduates and offered tips for students to enhance their positions while applying for jobs.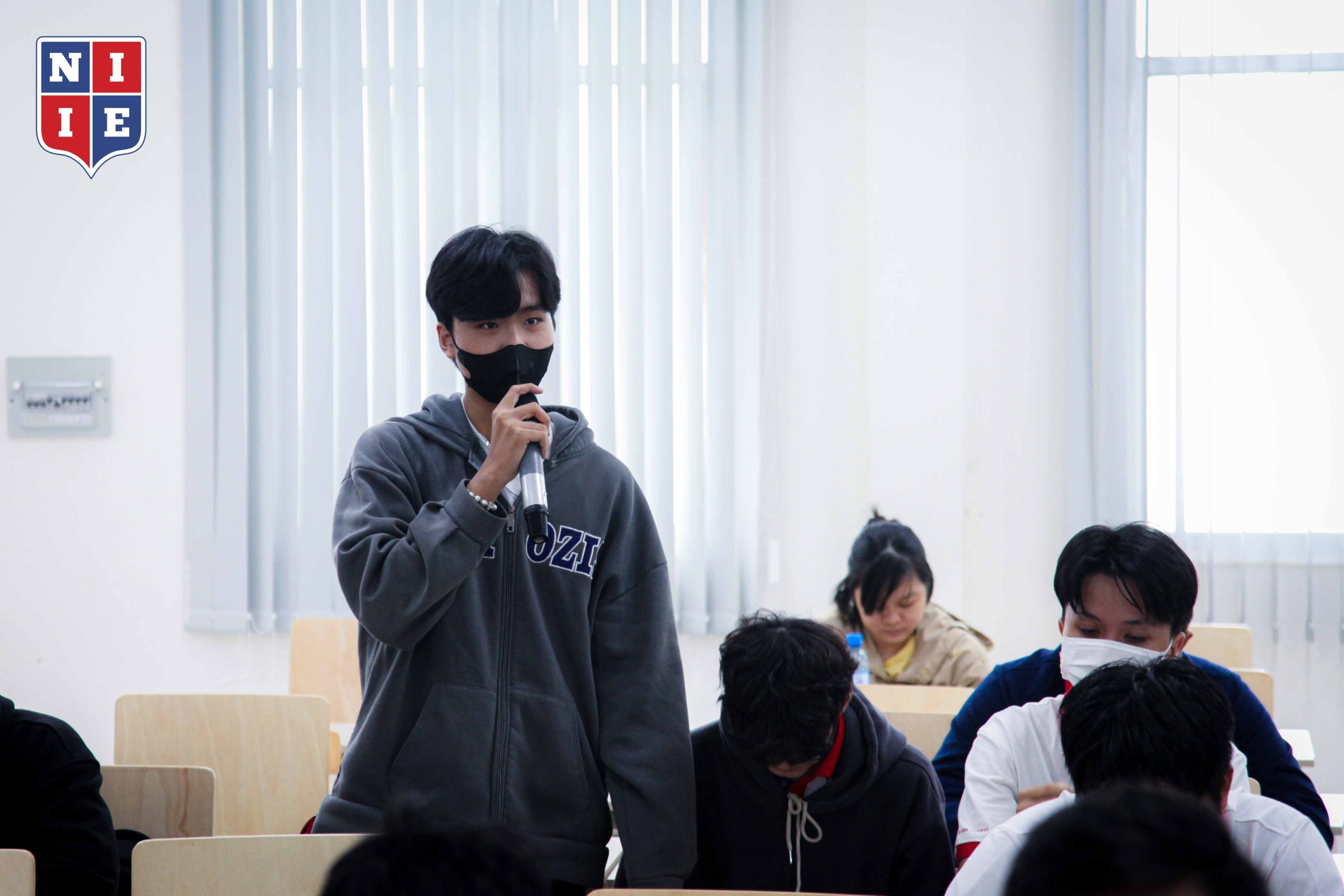 Through the Career Orientation Day, NIIE has provided students with essential information to prepare for their educational journey, accumulate experiences, and build their careers. It is hoped that this initial preparation will serve as a foundation for the students to confidently and wholeheartedly focus on their chosen path and soon achieve certain success.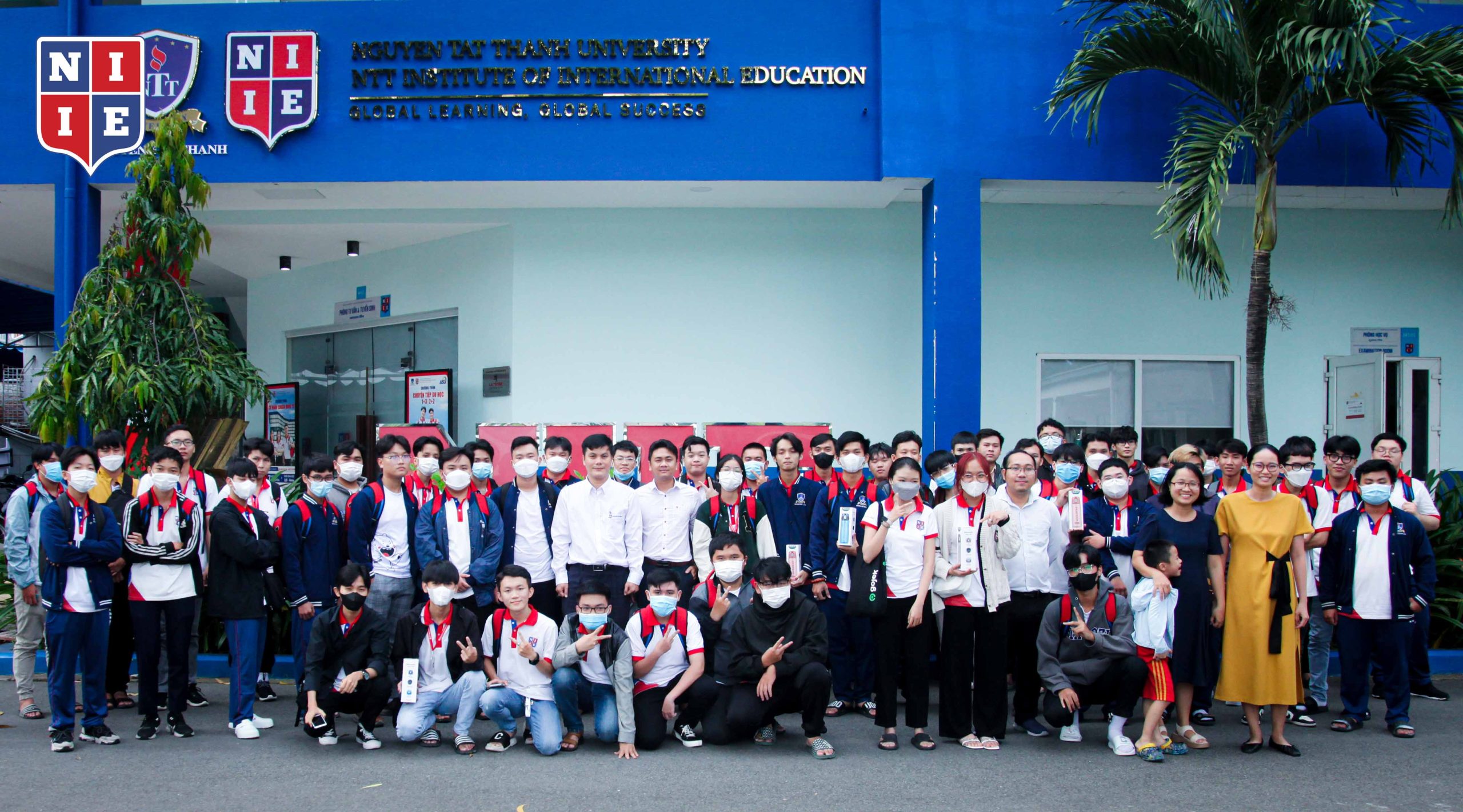 ———————————————
NTT INSTITUTE OF INTERNATIONAL EDUCATION – NGUYEN TAT THANH UNIVERSITY
GLOBAL LEARNING – GLOBAL SUCCESS
Address: 458/3F Nguyen Huu Tho, Tan Hung Ward, District 7, Ho Chi Minh City
Hotline: 0934 116 244 / 0938 116 244
Email: niie@ntt.edu.vn