On November 10th, NTT Institute of International Education (NIIE) organized a ceremony to honor 14 lecturers who achieved the Lecturer of the Year award based on their outstanding performance in teaching and the love they received from students. The ceremony took place in a warm and affectionate atmosphere, reflecting the gratitude culture of NIIE. It was also a wonderful tribute in November – the month of Vietnamese Teachers' Day.
The event was attended by Dr. Nguyen Tuan Anh, Vice President of Nguyen Tat Thanh University, Director of NIIE; Dr. Nguyen Manh Hoang, Vice Director of NIIE; respected lecturers in the organizing committee; the 14 award-winning lecturers, and the students who won in the vote for the Lecturer of the Year for the academic year 2022 – 2023.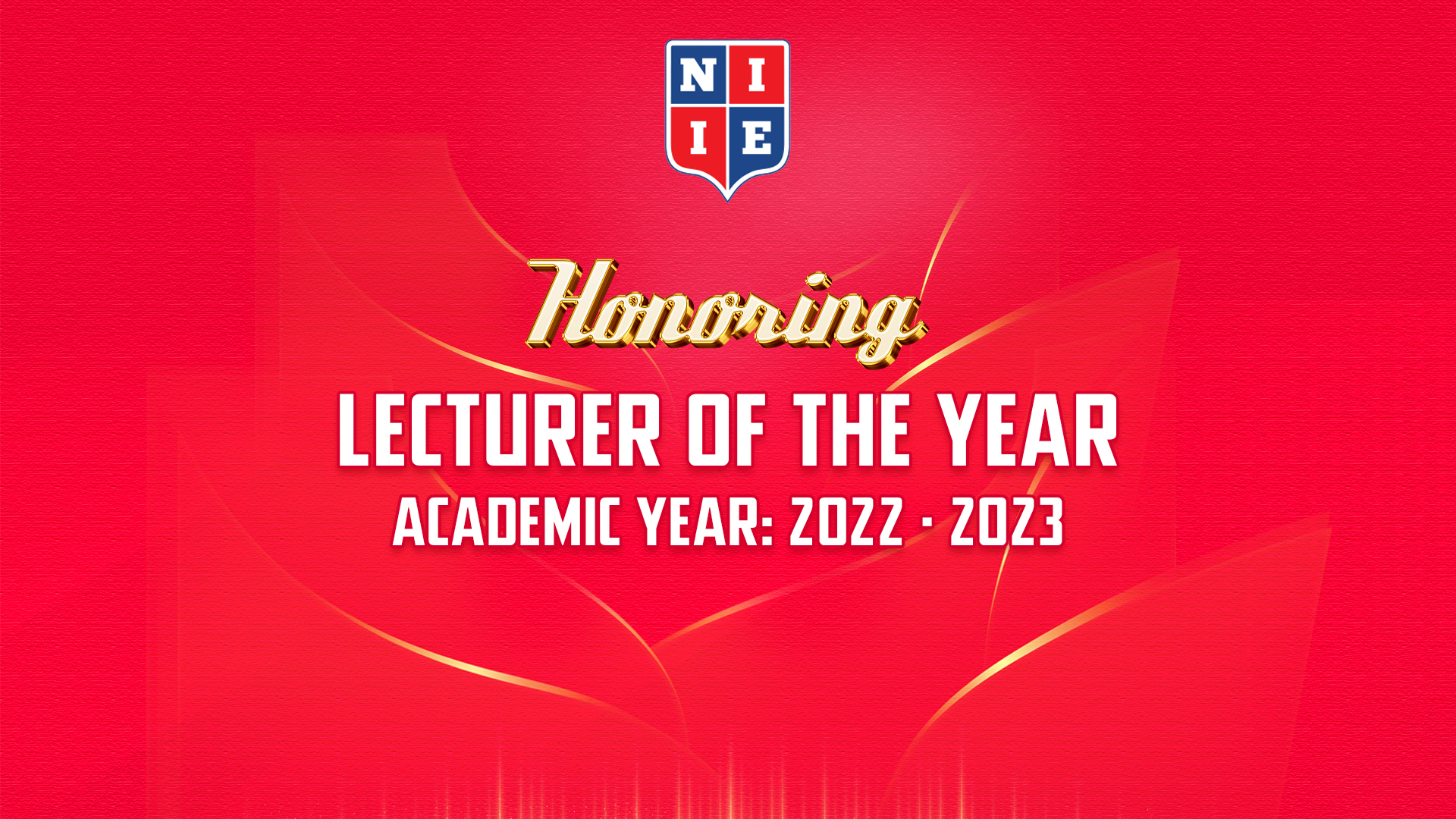 In his opening speech, Dr. Nguyen Tuan Anh expressed gratitude to the lecturers for their dedication in the academic year 2022 – 2023 and in previous years. Teaching remains a core activity, helping NIIE achieve its training goals and the vision-mission of the university. Moreover, lecturers are the captains of the knowledge ship, providing students with understanding and experience for successful careers after graduation. The recognition is well-deserved, and today's awards will be a source of motivation for the lecturers to strive even harder, bringing new, practical knowledge to students and contributing to the improvement of NIIE's educational quality.
Based on the results of the survey on three criteria: student evaluation, course quality, and teaching style, NIIE selected the seven outstanding lecturers in the field of English (NEP) and the six fields of Business Administration, Hotel Management, Accounting, Economic Law, Information Technology, and Automotive Engineering. In each field, NIIE also awarded the most beloved lecturer based on the online votes of the students.
The list of lecturers for the academic year 2022 – 2023 is as follows:
Business Administration: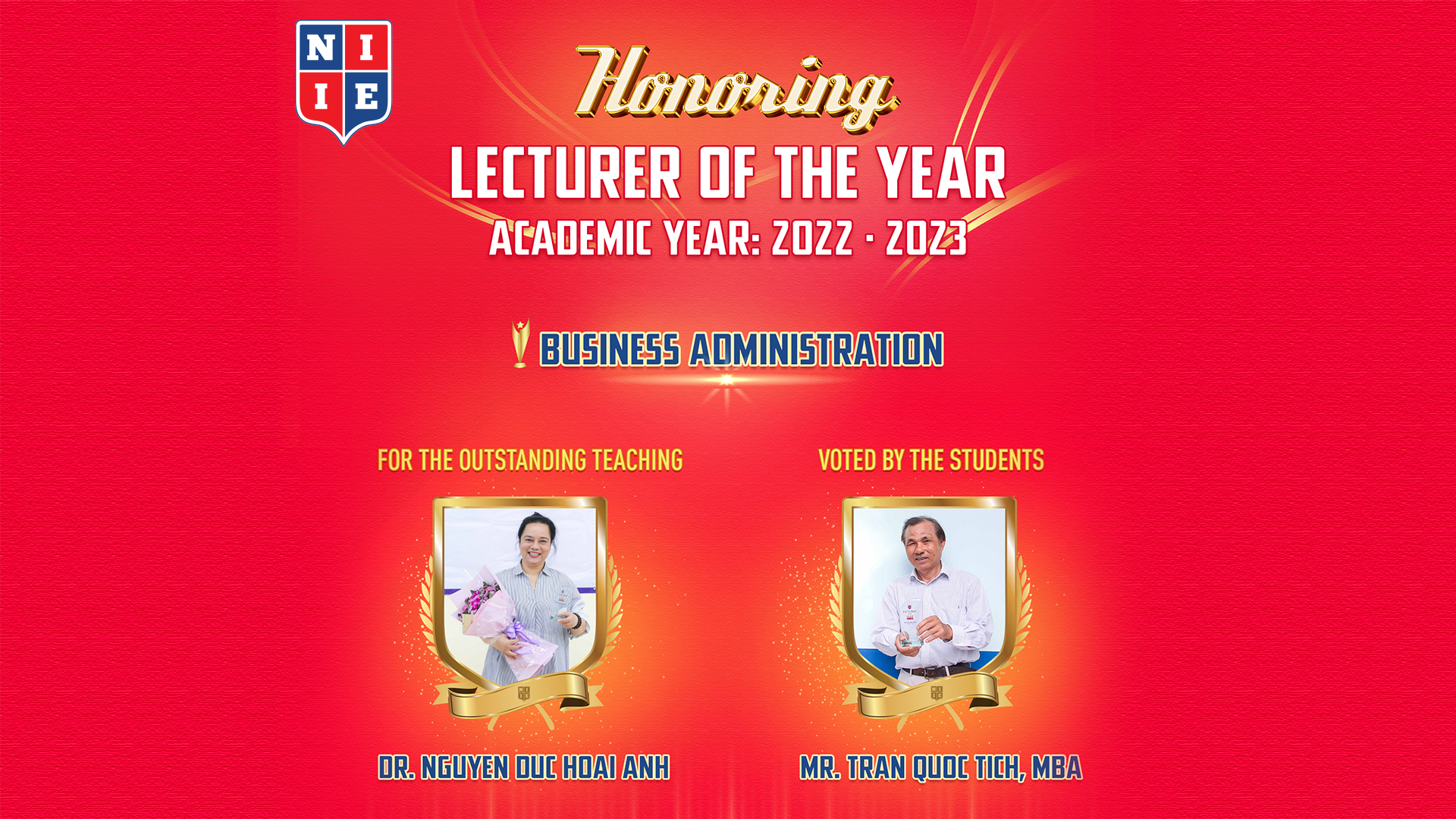 Dr. Nguyen Duc Hoai Anh – For the outstanding teaching
Dr. Nguyen Duc Hoai Anh has 26 years of teaching experience at major universities in Vietnam. Besides, she actively participates in scientific research and publishes books. Throughout her tenure at NIIE, she has been known for her high professional qualifications and extensive knowledge in both academic and practical aspects.
Mr. Tran Quoc Tich, MBA – Voted by the students
Before embracing teaching, Mr. Tich held various key positions in multinational companies and corporations such as TRG Vietnam, Shell Vietnam, ERP – Department of Royal Dutch Shell. Since 2016, when he joined NIIE, Mr. Tich has been actively involved in teaching various subjects and gained the affection of students for his dedication.
Hospitality Management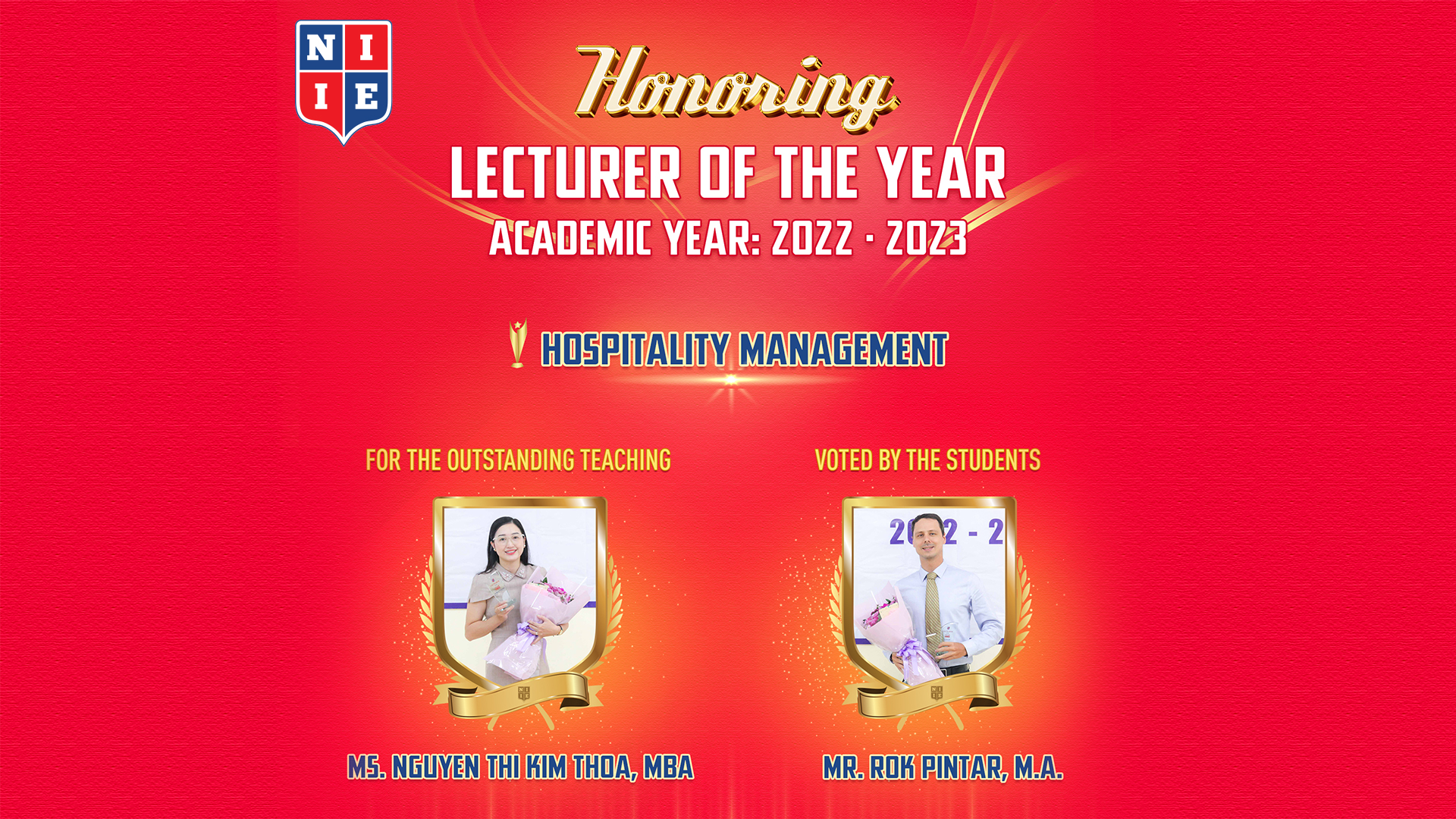 Ms. Nguyen Thi Kim Thoa, MBA – For the outstanding teaching
With a profound understanding of the hospitality management industry and participation in research for tourism development, Ms. Thoa conveys clear and in-depth knowledge to students, making the material both understandable and applicable. She brings exciting experiences and new inspiration to students through innovative teaching methods.
Mr. Rok Pintar, M.A. – Voted by the students
Known as the most handsome and friendly foreign lecturer at NIIE, Mr. Rok Pintar has consistently been among the most beloved lecturers for several years. Before becoming a lecturer, he held senior management positions at international companies and hotels such as TRG International, TWG Tea, Singapore; InterContinental Asiana Saigon Hotel; Swiss Chalet Restaurant; Mont Cervin Palace Hotel, Switzerland. Therefore, his extensive knowledge of hotel management is undeniable. Besides his specialized teaching activities, Mr. Rok is also actively involved in teaching English to NIIE students. Through humor in conveying knowledge and a humorous approach, he knows how to make dry lessons more engaging, interesting, and accessible to students.
Accounting: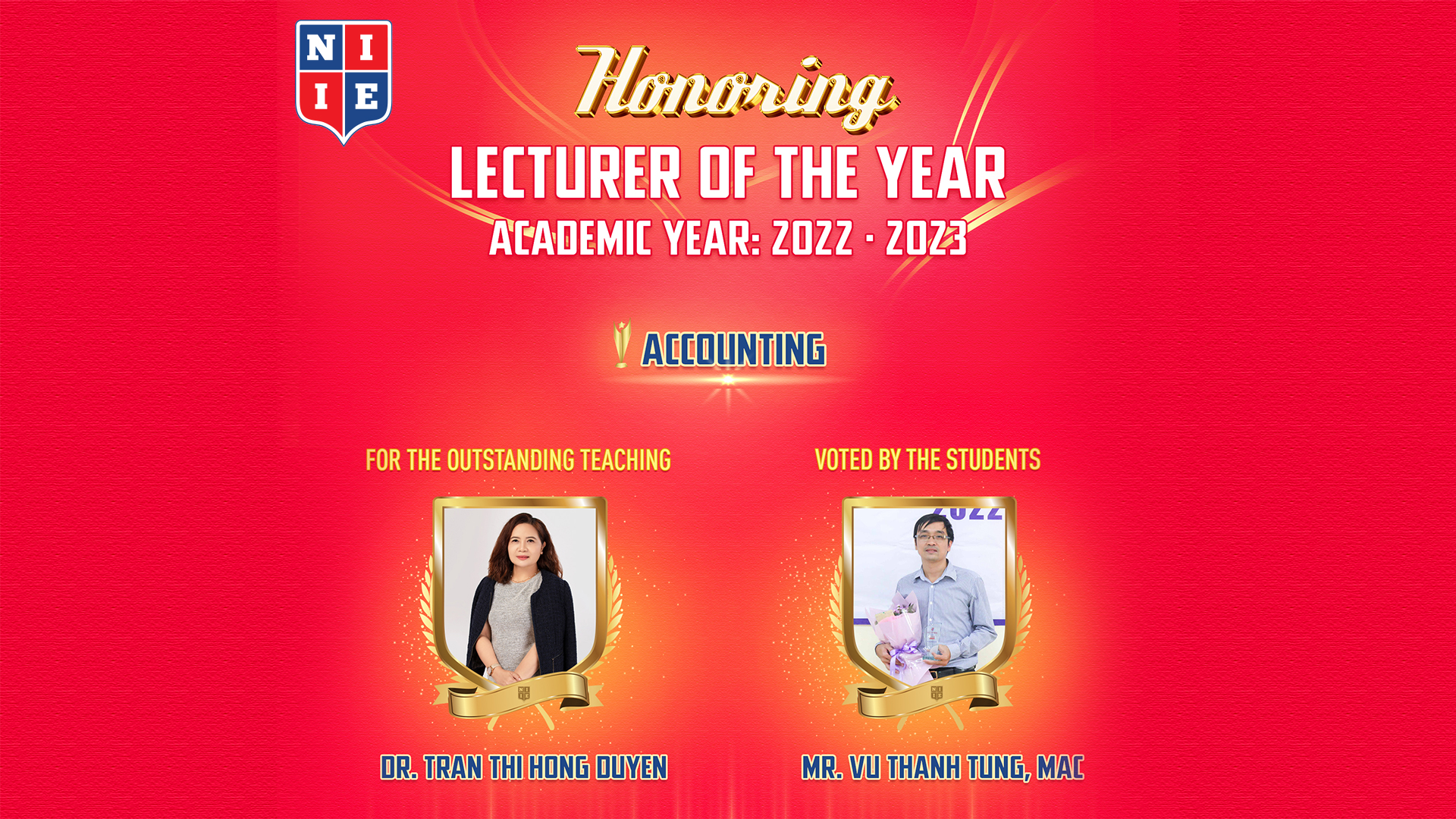 Dr. Tran Thi Hong Duyen – For the outstanding teaching
Up to now, Dr. Hong Duyen has over 12 years of experience working at major universities in Vietnam. She is also responsible for teaching in the cooperative training program with Coventry University (UK) under the BTEC program and Sunderland University (UK). In addition to teaching, she is the CEO and Founder of Global American Academy – English Teaching Center for all ages and English for Finance, Accounting, Marketing, and Human Resources.
Mr. Vu Thanh Tung, MAc – Voted by the students
Described by students as friendly and approachable, Mr. Vu Thanh Tung is a dedicated lecturer in his work, always enthusiastic, and provides new knowledge to learners. With work experience, Mr. Tung held the position of Chief Auditor at the State Audit in Region 4, Chief Accountant at The SEAMEO Cell, and has over 7 years of experience teaching at the university level.
Economic Law: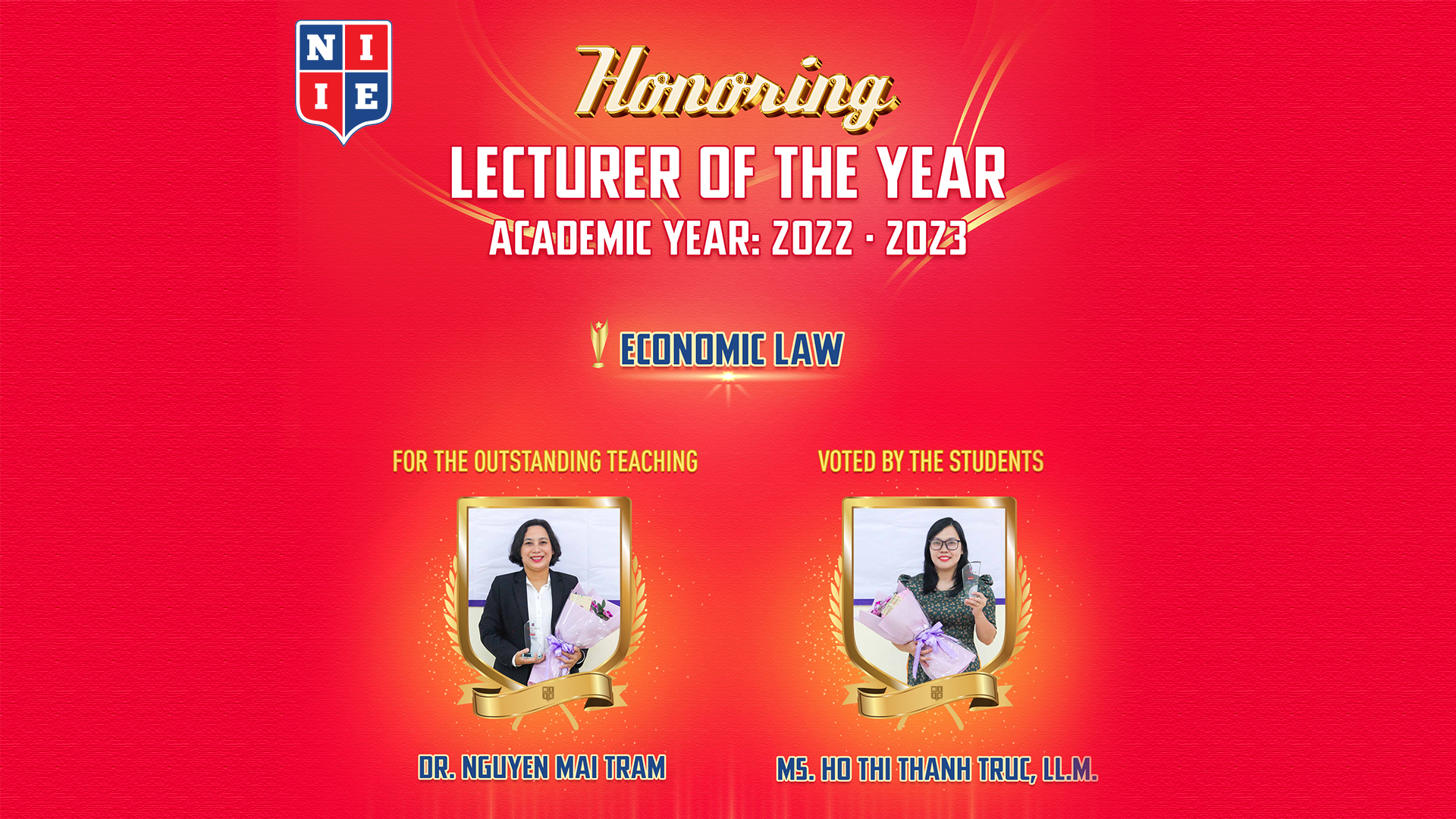 Dr. Nguyen Mai Tram – For the outstanding teaching
Dr. Nguyen Mai Tram currently holds the position of Senior Judge – Deputy Chief Justice at Phu Nhuan District People's Court and is also the Head of the Economic Law Department at NIIE. With in-depth knowledge of legal matters and an understanding of social life, Dr. Mai Tram is a source of inspiration and motivation for students to engage in the field of Law, serving as a shining example of professional ethics. Besides teaching activities, Dr. Tram actively conducts scientific research, contributing and making recommendations to improve the law. Some of her topics have been widely published in the People's Court Magazine and the Legal Profession Magazine.
Ms. Ho Thi Thanh Truc, LL.M. – Voted by the students
When asked about their impressions of Ms. Ho Thi Thanh Truc, most NIIE-ers describe her as a likable, approachable, dedicated, and enthusiastic lecturer who helps students in both academic and personal life. Guest speakers invited by Ms. Truc in workshops are of high quality, holding important positions in organizing agencies such as Directors, Heads of Departments, Judges, and Senior Lawyers. In her scientific research activities, Ms. Ho Thi Thanh Truc focuses on in-depth research on the impact of laws on the economy, finance, foreign investment capital, and mergers and acquisitions. Therefore, the knowledge she brings to NIIE students is practical and highly applicable.
Information Technology: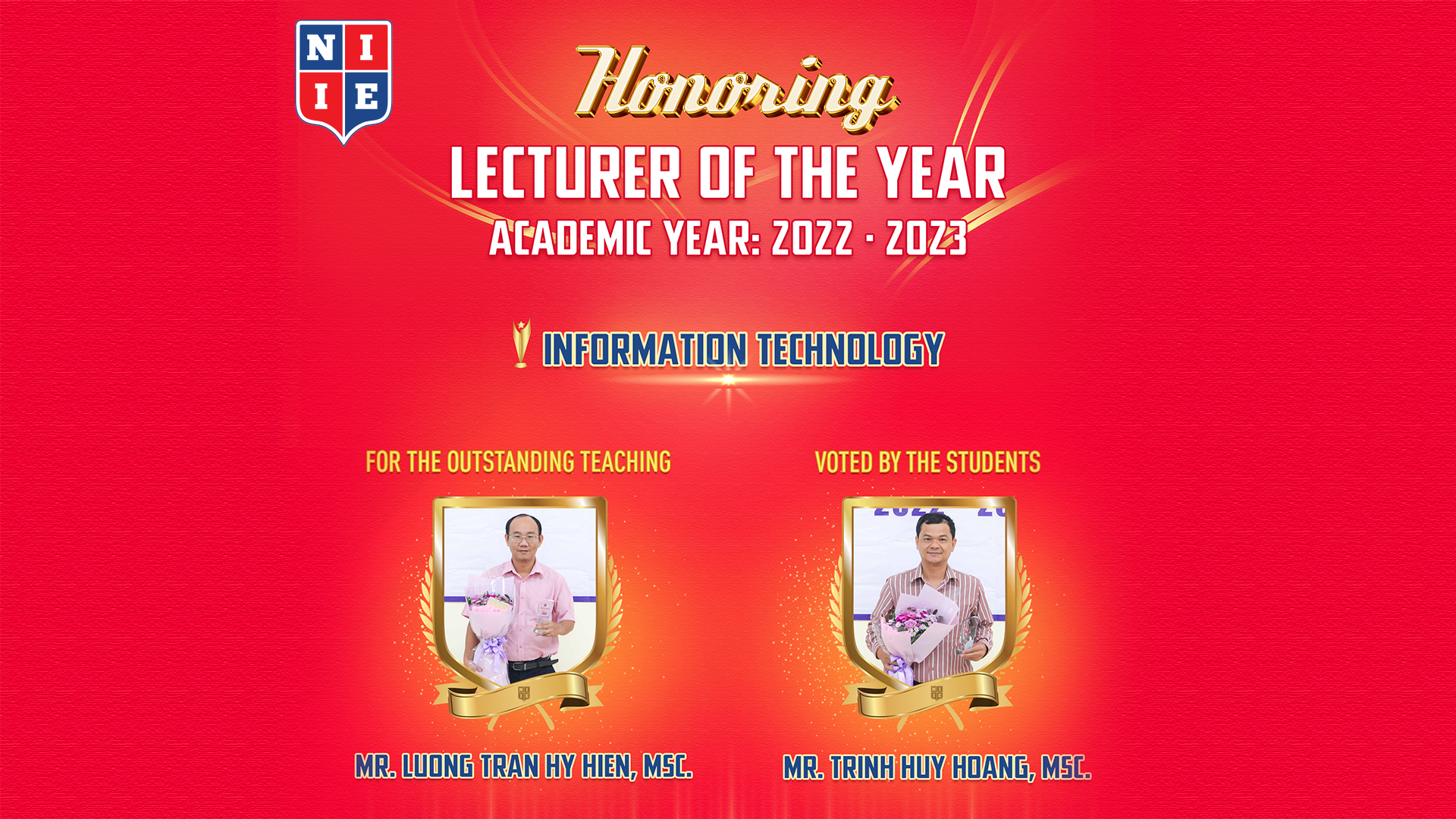 Mr. Luong Tran Hy Hien, MSc. – For the outstanding teaching
Not only is he a lecturer with over 16 years of teaching experience, but Mr. Hy Hien is also an expert in Computer Science, Data, and Programming. He actively participates in research, develops technology projects, and builds platforms to bring new and practical knowledge to students. His dedication and enthusiasm create a quality academic environment, inspiring creative abilities and logical thinking in students.
Mr. Trinh Huy Hoang, MSc. – Voted by the students
"In the lecture hall, he is a dedicated lecturer; in research, he is a companion," this is the feedback from NIIE students when asked about Mr. Trinh Huy Hoang. With a passion for Information Technology, Mr. Huy Hoang has been involved in researching applications and has achieved many admirable accomplishments. His recent award is for the "Best Scientific Paper" at the International Conference on Advanced Technology and Integration in ICT with the topic "Developing a deep learning model for image-based product information retrieval in games." Additionally, Mr. Huy Hoang is also a "companion" with a heart for NIIE students in scientific research activities and the application of Information Technology.
Automotive Engineering: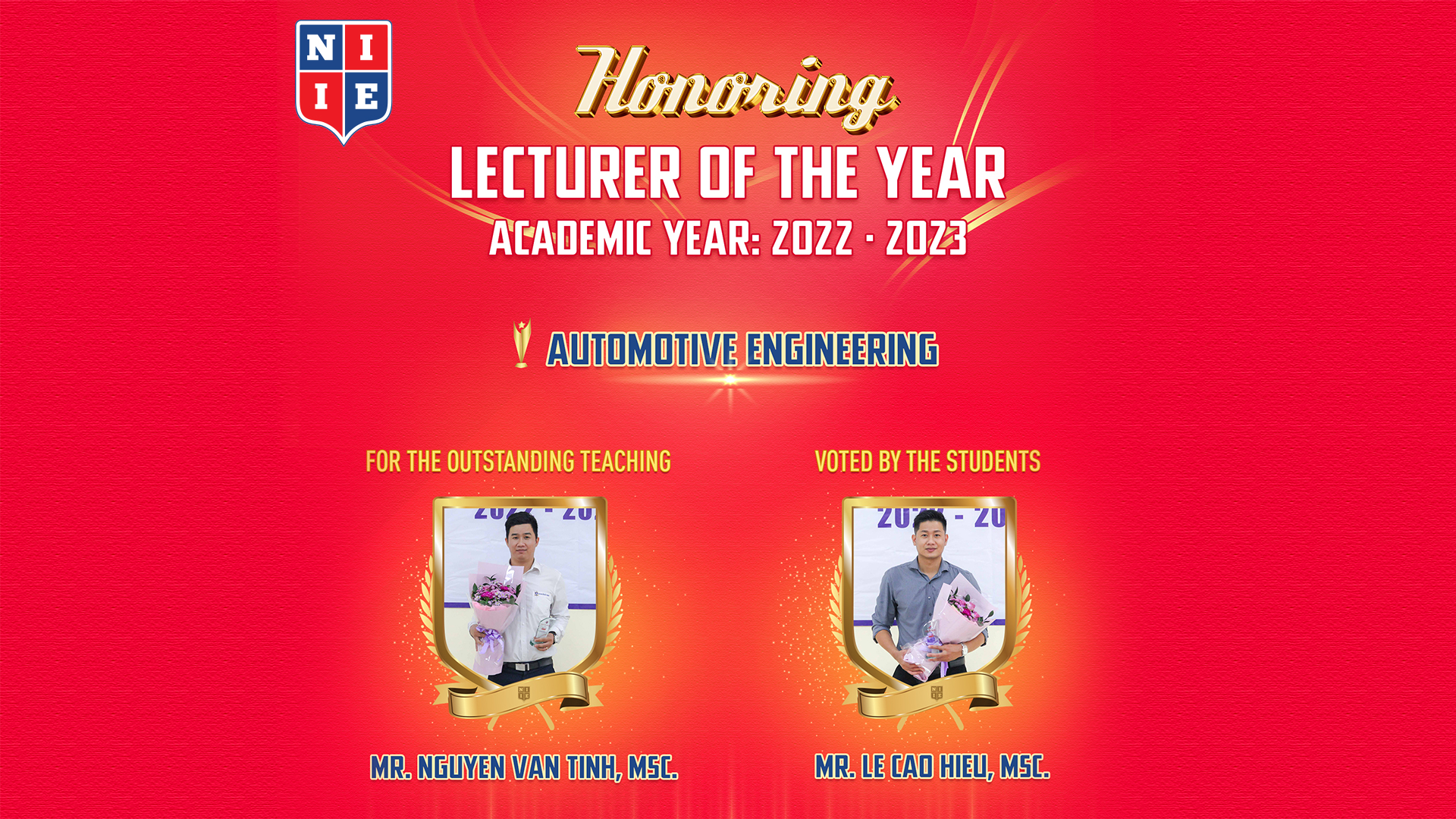 Mr. Nguyen Van Tinh, MSc. – For the outstanding teaching
MSc. Nguyen Van Tinh is a lecturer with high expertise and many years of experience in Automotive Engineering. With intelligent teaching methods and practical communication skills, Mr. Tinh turns technical and technological lessons into approachable and accessible sessions for students.
Mr. Le Cao Hieu, MSc. – Voted by the students
Behind the somewhat strict appearance, MSc. Le Cao Hieu is evaluated by students as a caring, dedicated lecturer. He patiently explains when students face difficulties, straightforwardly points out weaknesses, and suggests ways to overcome them to improve students' knowledge. Additionally, Mr. Hieu has contributed significantly to helping students with career orientation, sharing life experiences, and inspiring students to connect with their chosen path confidently. With their enthusiasm, many students have gained knowledge, experience, and life skills, making them well-prepared for future development after studying under Mr. Hieu.
English Department: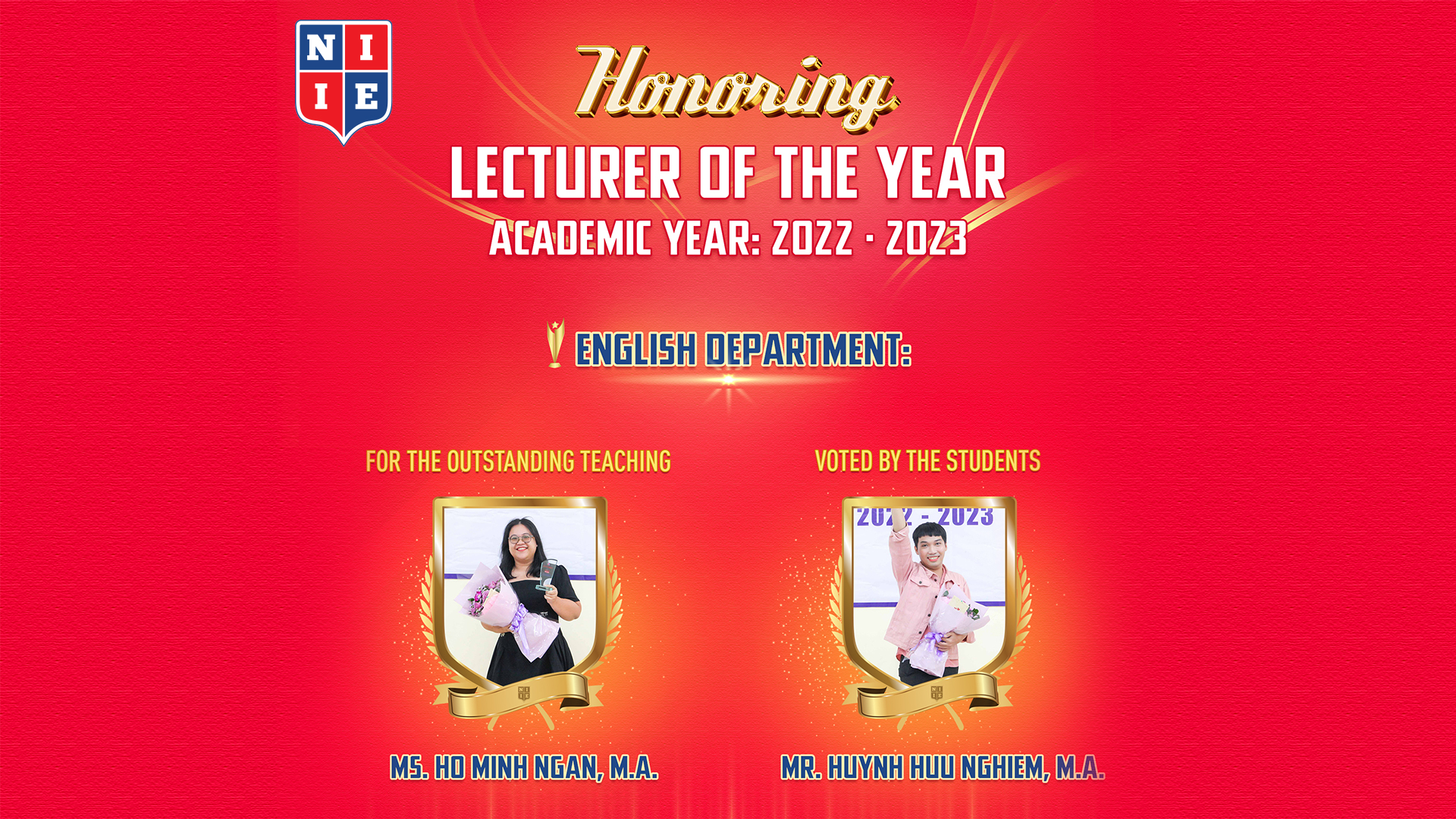 Ms. Ho Minh Ngan, M.A. – For the outstanding teaching
MA. Ho Minh Ngan (nickname Nganhoho) is a cheerful, passionate lecturer who is always wholehearted with students. Understanding the difficulties of English learners, Ms. Ngan actively researches and explores new foreign language teaching methods, widely applying them to inspire foreign language learning in students. Many students have overcome their fears through her efforts and become more confident in their English learning journey.
Mr. Huynh Huu Nghiem, M.A. – Voted by the students
"Work hard – Play hard" is the characteristic when mentioning Mr. Huynh Huu Nghiem. Besides being an excellent English lecturer with an engaging teaching style, he actively participates in extracurricular activities, being a "companion" who fully engages with students, creating an international academic environment that is friendly and effective in education.
Once again, NIIE sincerely congratulates the esteemed lecturers for being awarded the Lecturer of the Year for the academic year 2022-2023. This honor is a well-deserved recognition of the lecturers' dedication to imparting knowledge and supporting the comprehensive development of students. The lecturers will continue to strive in the coming semesters, bringing engaging, innovative learning experiences and helping students become outstanding experts in their fields.
———————————————
NTT INSTITUTE OF INTERNATIONAL EDUCATION – NGUYEN TAT THANH UNIVERSITY
GLOBAL LEARNING – GLOBAL SUCCESS
Address: 458/3F Nguyen Huu Tho, Tan Hung Ward, District 7, Ho Chi Minh City
Hotline: 0934 116 244 / 0938 116 244
Email: niie@ntt.edu.vn